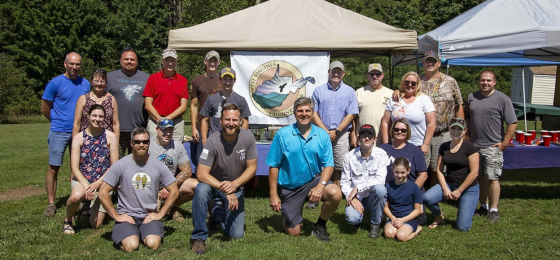 Club Picnic
The club held its summer picnic on September 5th at the home of club president, Jason Caldwell. After a covered dish lunch, a business meeting was held.

Jason updated attendees on new changes to the West Virginia Falconry regulations, the biggest change being that bands are no longer required on birds trapped in West Virginia, with the exception of peregrine falcons. Vice president Matthew Frey also spoke on ethics in falconry and secretary/treasurer Heather McNemar mentioned the benefits of joining NAFA (North American Falconers Association). Jason then headed up a raffle assisted by Virginia Falconry Club president Gene Stevens. Thanks to the donations of several companies and individuals, the raffle raised $782.

The summer picnic is the club's biggest event of the year, and without the generosity of the vendors and individuals who donate each year, the club wouldn't be able to raise the funds it requires to continue operation. We urge you to support the vendors who donated, and a quick comment about the club when you place an order is a big help as well!

To all of you who took the time to venture out for the summer picnic, we're grateful! Best wishes for the upcoming season!